Honeymoon Beach is both convenient and out-of-the-way, a good choice for those who want to avoid the crowds at spots like Trunk Bay, but still, appreciate a few on-site amenities. The beach is accessible by trails and serves as an area for water sports enthusiasts. Travelers can grab a kayak for a paddle up the coast before diving in to snorkel alongside the tropical fish that school around the rocks. Besides, the place also has impressive
mountain view villa rentals in St John
that comes at an affordable budget as well.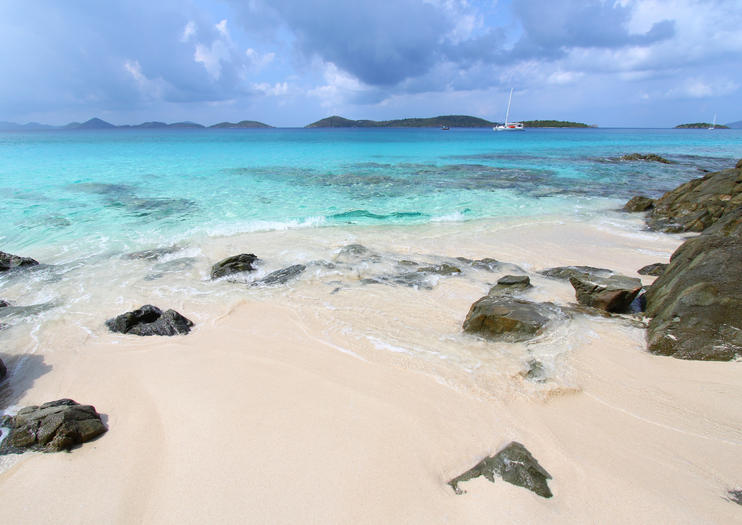 The U.S. Postal Service put it on a stamp, Condé Nast Traveler called it one of the top 10 beaches in the world, National Geographic declared it without equal: Trunk Bay. The talc-soft sands, turquoise waters and lush green backdrop of this earthly paradise inspire superlatives in all who see it, while its location within the Virgin Islands National Park ensures it remains free of unsympathetic development.

Just off-shore, a marked-out underwater trail is a popular snorkeling spot, and you can hire equipment if you didn't bring your own. In the late afternoon, as visitors drift away, stick around for a perfect tropical sunset.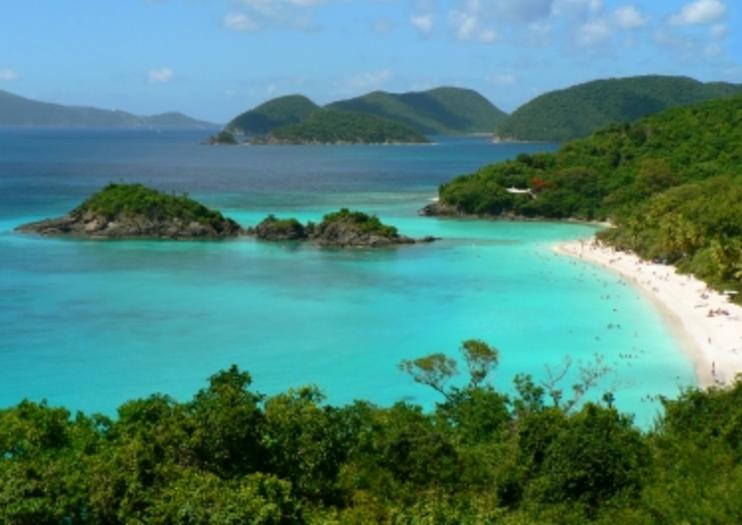 One of the most beautiful and most convenient beaches on St John, Hawksnest Bay is a favorite for families with children and visitors coming from the ferry docks at Cruz Bay. Swaying palm trees line the narrow beach, which has restrooms, grills, and a shaded picnic area.

Hawksnest Bay faces east and gets lots of morning sun, and shade arrives earlier than on other St John beaches. For beginning snorkelers, an offshore reef is a short swim away, set in shallow waters where novice divers can see a cornucopia of colorful fish, corals, and sea creatures. Ambitious snorkelers will find much to discover farther out, where large, orange elkhorn coral brighten up the deeper waters.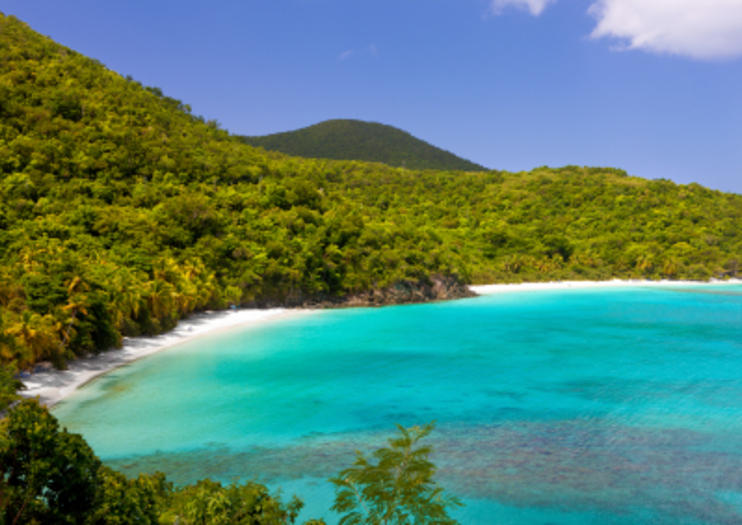 Caneel Bay is one of the first beaches you come to as you drive up North Shore Road out of St John's main port, Cruz Bay. Much of the coastline here is monopolized by an extensive resort, but they guarantee access to Caneel Bay and their restaurants adjacent to the beach are accessible also.

The area was once a plantation and the ruins of the old sugar works make an atmospheric detour. The beach itself is a three-dimensional postcard, while snorkelers will delight in sting rays, barracudas and other sea life.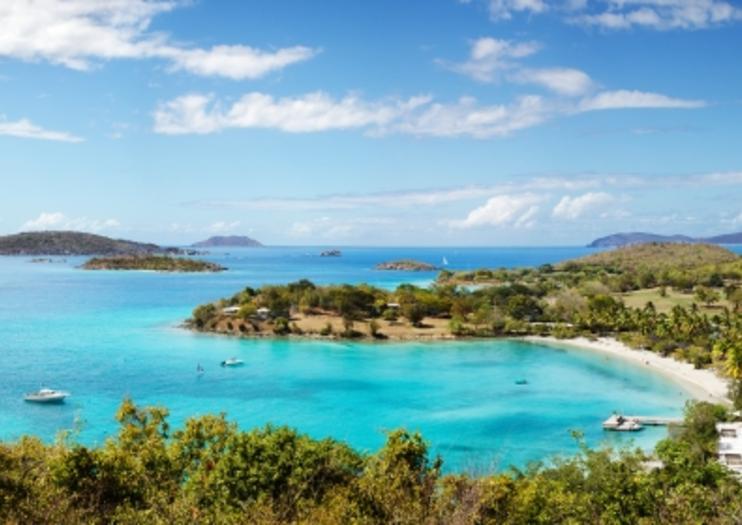 Virgin Islands National Park
The majority of St. John is covered by the
Virgin Islands National Park
, a stretch of preserved wilderness all the more remarkable when you consider how much of the island was once cleared for sugar plantations.
Get the most out of this natural wonder on hiking trails which crisscross the island. None takes more than two hours to complete, but they cover a surprising range of topography and vegetation as well as historical sites such as the eerie plantation ruins of Annaberg. And there's no better way to end your walk than a swim at one of St. John's superb beaches, such as beautiful Trunk Bay in the island's northwest and staying in
Villa Rentals near Virgin Islands National Park
which is just a few steps away from the park itself.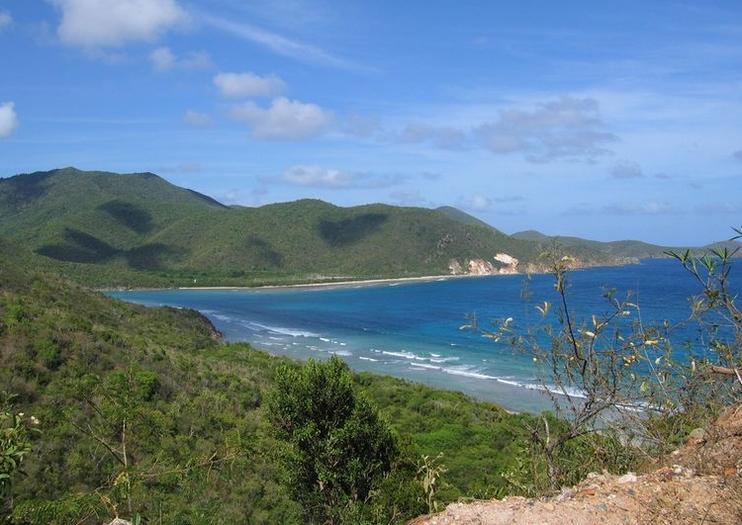 Perched on St John's northern shore, Maho Bay draws families and snorkelers to its calm, shallow waters. It's easily accessible, as you can drive right up to the beach and park on the side of a road lined with groves of coconut palms.

Maho Bay is named after the beach Maho tree, which you can identify by its heart-shaped leaves and bright, yellow flowers. The narrow beach fronts a shallow, sheltered bay that is a popular anchorage for yachts. You might even spot a sea turtle swimming among the seagrass swaying below the surface. A coral reef on the southern coast of the bay provides excellent snorkeling.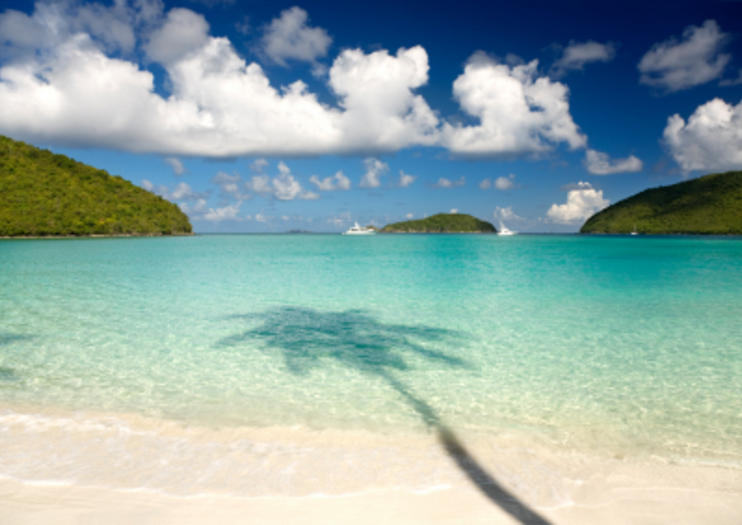 Annaberg Sugar Plantation
Back in its heyday, the Annaberg Sugar Plantation was one of 25 facilities on the island producing sugar, along with molasses and rum. All that remains today are ruins, but they are an important reminder of St John's past, and visitors can walk a trail that leads them through important structures such as slave quarters, windmills and factory remains.

Learn about 18th- and 19th-century sugar production and the importance of Annaberg, where slaves were brought in to clear the dense hillsides and terrace the slopes, allowing for farming. Slaves were also involved in actual sugarcane production and completed tasks like planting, harvesting and processing. When slavery was later abolished, the plantation was subdivided into small farms.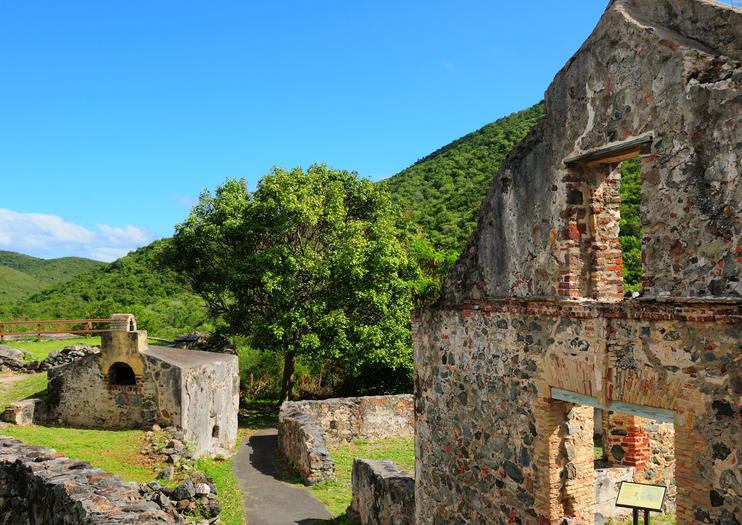 The tiny island of Waterlemon Cay on St John is a favorite among snorkelers. The sandy beach of Leinster Bay serves as the starting point for a 10-minute swim to Waterlemon Cay; it's less than a mile to the island and worth every breaststroke. The cay is home to a wealth of coral and marine life, which is what ranks it so high with travelers. Sadly, the island has seen a recent reduction in coral and reef fishes, attributed to high rates of erosion and run off from local construction.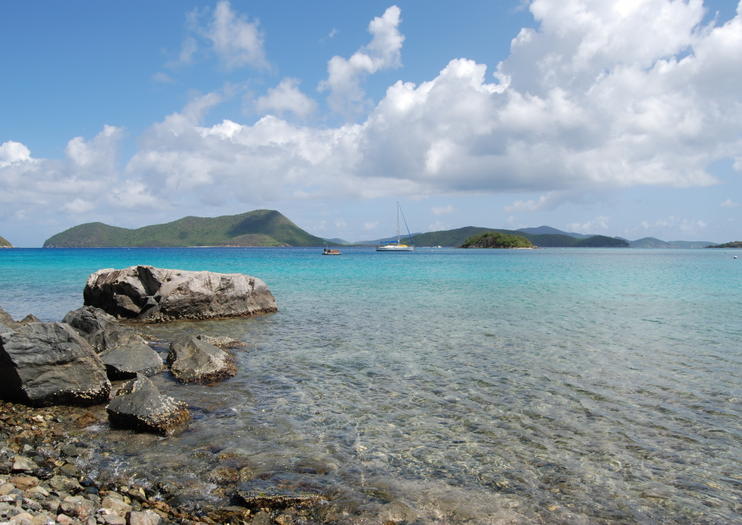 St. John's Coral Bay prides itself on being the raffish alternative to the island's main point of arrival, Cruz Bay. Its few dozen houses are haphazardly sprinkled on the green slopes tumbling down to Coral Harbor, a beautiful, protected cove.

The red-roofed Moravian Church dates from 1750 and serves as a local landmark. Otherwise the town's charm lies in its laid-back bars and restaurants where – unlike some Caribbean locations – tourists won't necessarily outnumber locals.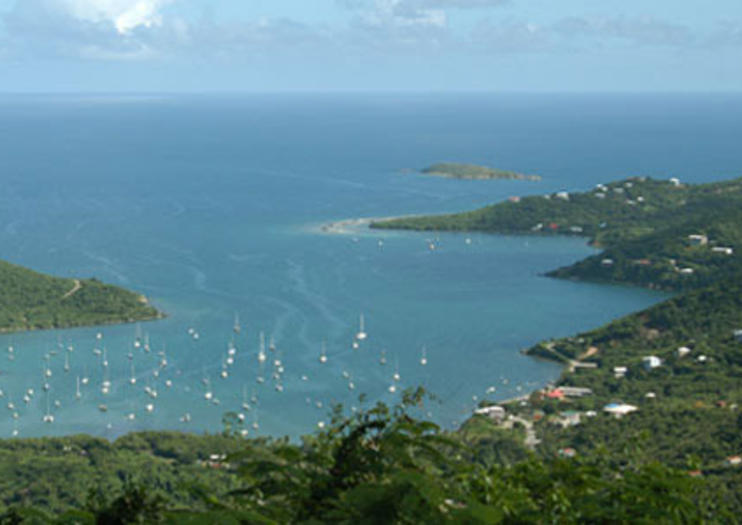 Perched on the scenic southeast coast of St John, Salt Pond Bay shimmers with crystal clear waters fronted by a rocky, white-sand beach. As Salt Pond Bay is a longer drive from the busy Cruz Bay, you can get away from the crowds and enjoy some quiet beach time. And while the surf is breaks up north, the beach offers a tranquil haven for those seeking calm waters.

A 10-minute walk downhill takes you to this idyllic tropical setting. Tide pools are filled with all kinds of marine creatures, and snorkelers can find a plethora of undersea life with a swim out to the reef in the middle of the bay. Shade is in short supply on the beach, as most of the sand is lined with short shrubs; so you may want to bring an umbrella, for a respite from the sun.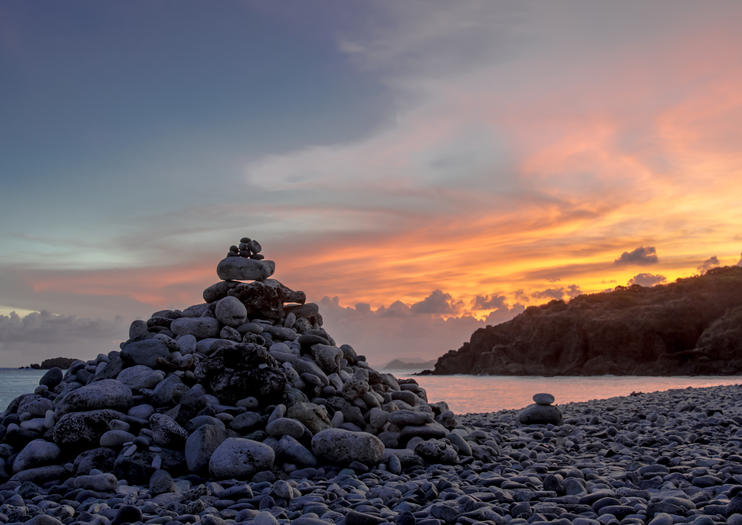 Off the shores of the stunning island of St. John, Henley Cay is a short boat ride but seems worlds away. Comprised of 11 isles, its crystal clear turquoise waters make it a draw for water activities such as snorkeling and kayaking. Much of the reef is located in shallow water (from 3 to 15 feet,) so visibility is often best just off the shore. Though it has a history dating back to the 18th century, it's uninhabited today.

Its bay and cove are protected and receive fewer visitors than other snorkel spots on the island. Colorful corals, sea fans, and tropical fish are easily seen, and many consider the snorkeling at Henley Cay to be world-class. Angelfish, parrotfish, surgeonfish, and wrasse are a few of the common fish species spotted often. Tours of the cay typically leave from Caneel Bay and combine kayaking and snorkeling the reefs.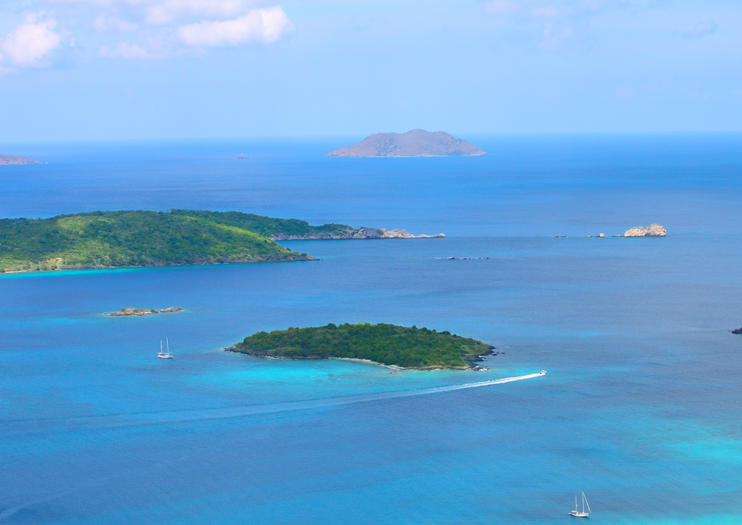 If you are after shopping on St John, Mongoose Junction is the place to go. Considered to be the island's premier shopping and dining destination, Mongoose Junction is home to a number of stores selling local Caribbean products such as furniture and textiles. Check out Bamboula, which offers primitive art, clothing, beads, baskets and old-style Caribbean furniture, or Best of Both Worlds, which sells locally made artwork, including sculptures, glass, pottery and designer jewelry.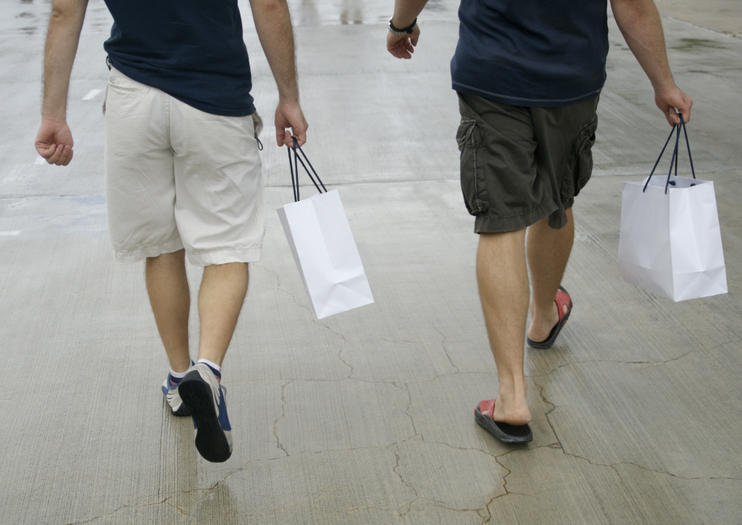 Affectionately titled "Love City," Cruz Bay is always the first stop on a visit to St John. The town's laid-back, carefree vibe, centered on a lively town square and an equally lively beach, draws visitors of all types from around the world.

Surrounded by hills dotted with hotels and apartments, Cruz Bay is the main town on sleepy St John. Within walking distance of the ferry docks, the town square holds many picturesque shops, small bars, and restaurants. Mongoose Junction, a colorful blend of Spanish architecture and Caribbean flavor, holds a collection of upscale jewelry and clothing shops. Other favorite shopping strips include Wharfside Village and King Street.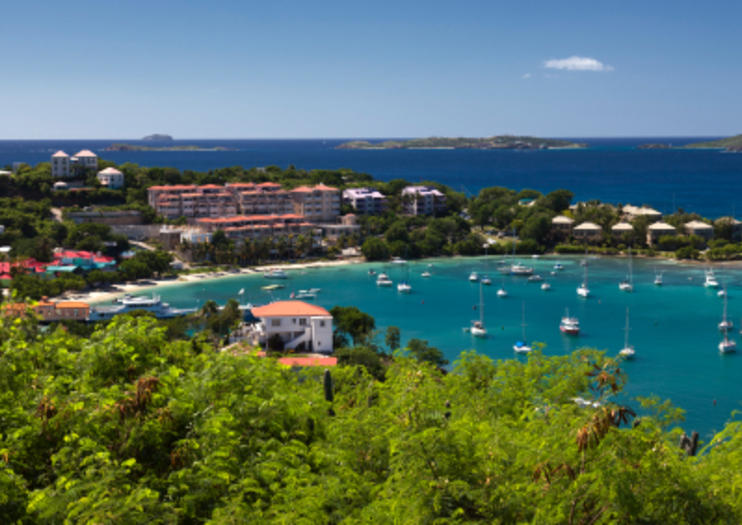 One of the smaller snorkel spots in St John, Whistling Cay is only accessible by boat, and with its depths of 40 feet or more, it is considered a deep-water snorkeling area. The clear waters allow visitors to see down into the deep to see large coral formations; they can either snorkel the surface and admire the coral from afar or free-dive down to explore them up close. This prime spot means that snorkelers often spot large fish such as tarpon, uncommon at shallower snorkeling spots.

Whistling Cay is located off the north shore of St. John, near Mary Cay. The island has small pebble beaches on the east side, while larger cobblestone beaches are commonplace on the western side.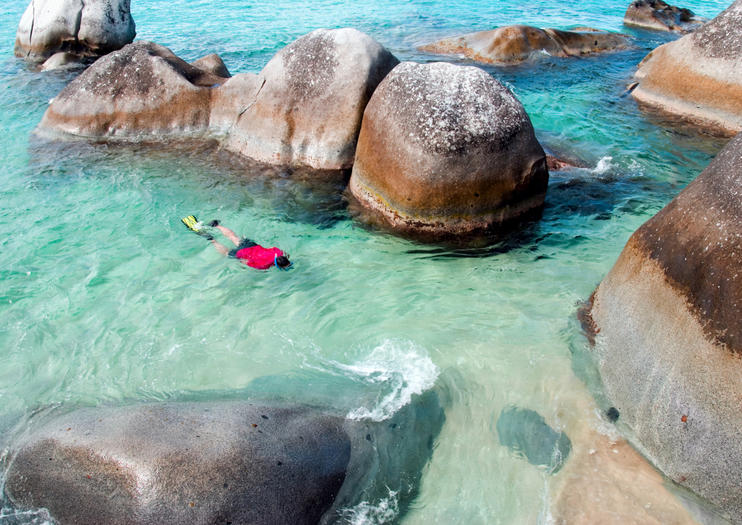 Leinster Bay is for beach lovers seeking privacy, sun and soft sand. Shallow, warm waters front this tranquil and cozy heaven, which harbors some of the best snorkeling on St John.

Swimmers love Leinster Bay's calm, shallow waters. Snorkelers and divers come to explore Waterlemon Cay for its spectacular, colorful coral reef, where you can see turtles, stingrays, starfish and schools of blue tang and parrotfish. The cay is considered to have the best snorkeling and diving on St John. On land, the beach serves as a cooling-off stop for the Brown Bay and Johnny Horn hiking trails.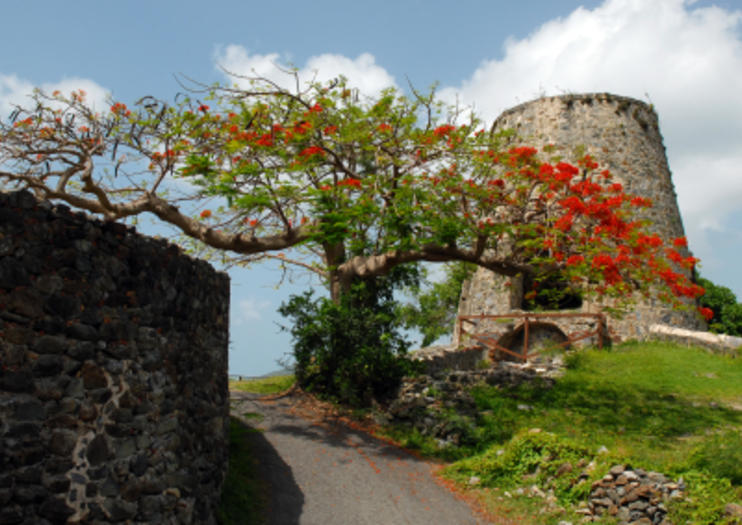 Explore the history and culture of St John though a lush, tropical paradise that unfolds along the Reef Bay Trail.

The trail itself takes approximately 2 hours, most of which is an enjoyable downhill trek. The path is well-kept, and descends 937 feet (285.6 meters) into the Reef Bay Valley from its starting point on Centerline Road, 5 miles (8 km) east of Cruz Bay.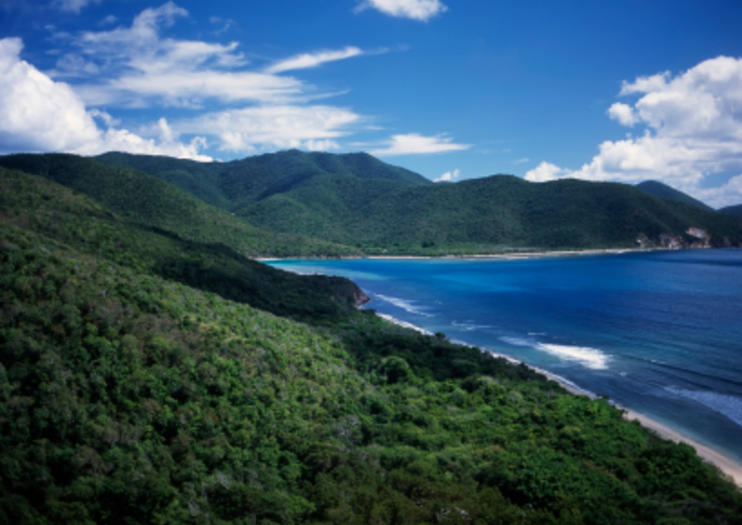 The Jolly Dog was born in the aftermath of the volcanic eruptions on Montserrat. I had lived there since 1989,
running a family garment manufacturing, screen printing and retail operation. In 1995, the long dormant Soufriere Hills volcano
Rumbled to life and changed everything. Ongoing hysteria, panic, and general chaos forced my evacuation
off Montserrat for good in Oct of 1995. Having been a visitor of St. John since the early 70's with my family, I identified that as my new island home.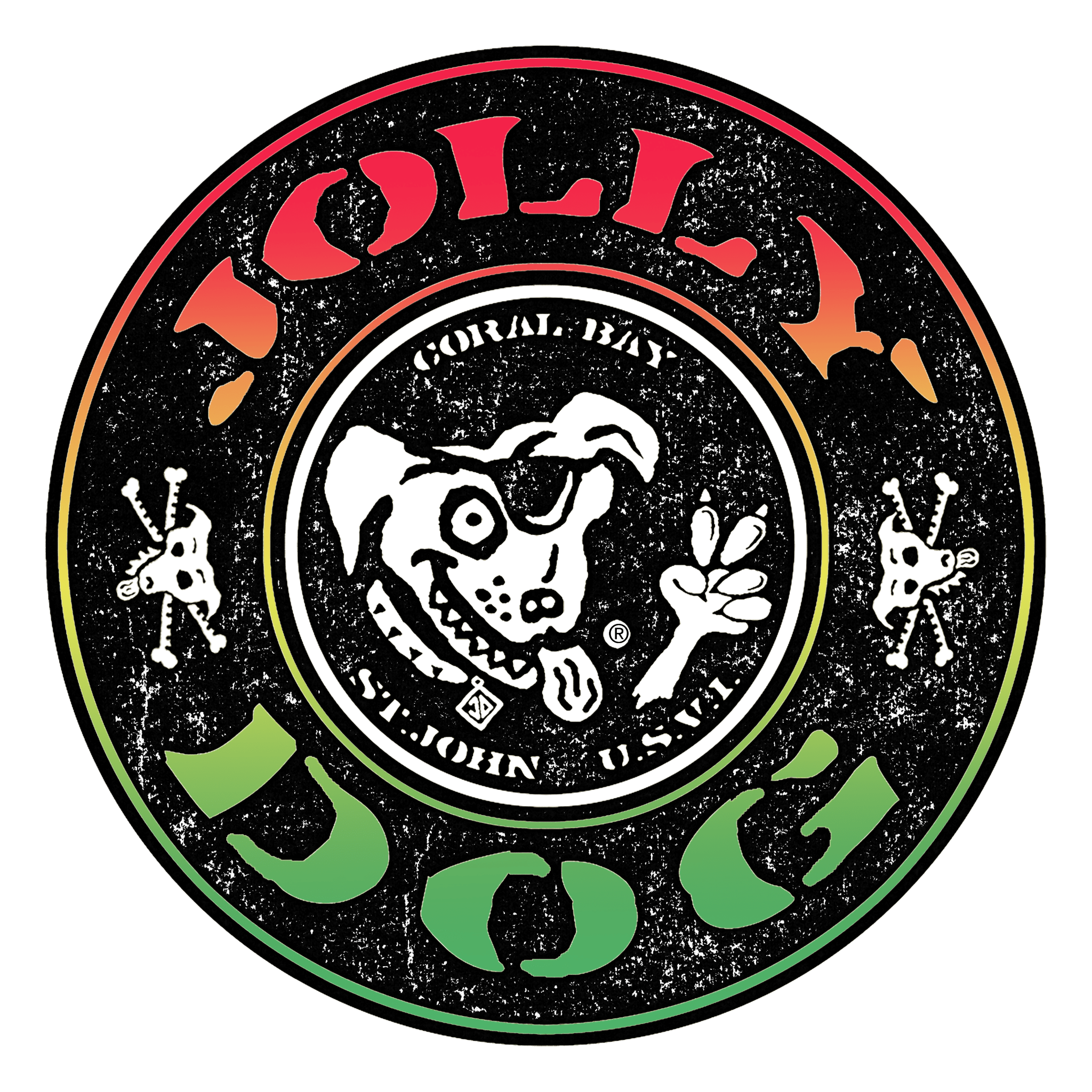 Welcome to ZEMI island designs! We have opened many stores in our 30 years in the Caribbean, but ZEMI island designs is our first jewelry outlet. Zemi is the sister store to Jolly Dog's VIRGIN TERRITORY located at Isola Shoppes. We have always had a passion for unique design, quality craftsmanship and lasting appeal. With Zemi, we aim to bring you some of the best in Local Island jewelry designs, as well as an eclectic array of global accessories, many sourced from our travels! Thank you for visiting our website and store in Coral bay! We hope you find something truly unique to remember your time spent on our shores!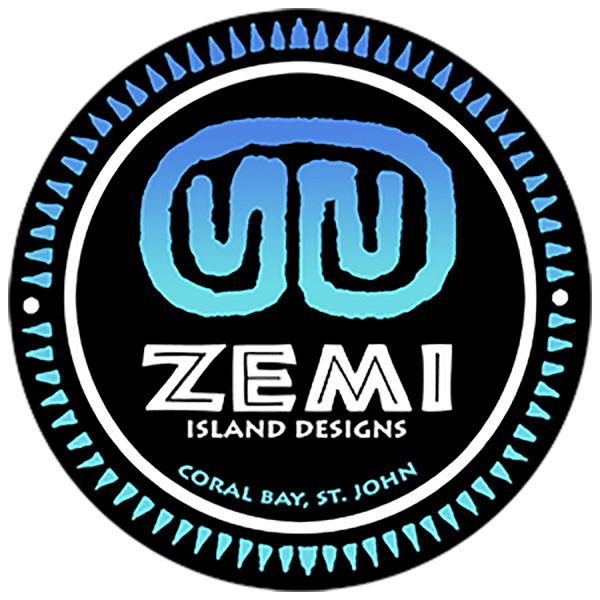 Welcome to Isola Shoppes! Come enjoy our relaxed atmosphere and first class amenities in tranquil Coral Bay. St. John! Our oceanfront setting features a boutique collection of bars, restaurants, shops and services all in a convenient setting, with plenty of parking! We hope to see you soon!